Everyone needs a neutral in their wardrobe, but black is by no means an all-rounder. It
doesn´t
go with all colours, and it
doesn´t
look good on everyone. It can wash out low-contrast colours and if worn wrong it can easily look dowdy and boring instead of chic and classic. And if you have low-contrast skin-hair colouring, chances are that black worn near the face will wash you out.
There are many more neutrals out there. Based on your wardrobe palette and your own colouring, you can choose another colour as your neutral. That would be a colour that looks good on you (even near your face), and works with most colours in your wardrobe.
Here are some other colours which can be
your
black:
Greys:
it actually looks more expensive and sophisticated than black. It is less harsh, thus better for people with less contrast in their face & hair colouring. It shows dirt much less than black does, and doesn´t look faded even if it´s faded. Can be mixed with other shades of grey, or with just about any colour. All the images here show a lighter grey, but personally I love charcoal grey, which is a great
softer alternative to black
.
Navy:
Did you ever wonder why blue jeans are considered a neutral ? That´s because blue goes with almost everything, and looks good on almost everyone. Especially brunettes. The darker navy you choose, the more neutral it is. The dress on the left is a great example of a deep navy shave that is almost black, but has more depth and is more interesting.
Olive green / Khakhi:
For those for whom blue is too strong or too cool, olive or khakhi makes a great neutral. I love this colour on cool blondes. Try the warmer tones (with more yellow, like the long coat) as well as the almost grey neutral. I love the way it can go from casual to sophisticated.
Eggplant: it´s the perfect shade of purple that is neither too warm or too cool. It oozes sophistication and chic, even if worn in very casual outfits. It´s not easy to get the shade right, so check the colour in daylight before buying.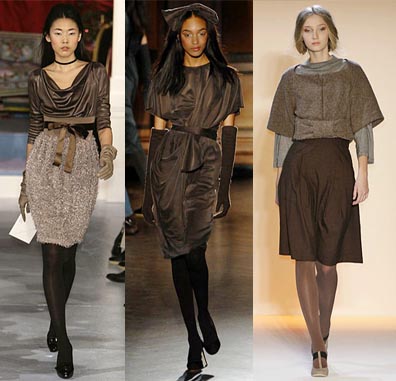 Brown:
Brown is a very underestimated colour. Lots of people who have been wearing black for ages actually would look better in brown,
like this girl
. From chestnut to coffee, sienna to caramel, there is so much to choose from. Try cool browns (more reddish) and warm (yellowish), and see how they work with your personal colouring.
Camel, beiges and co:
These don´t look good on everyone, but can look very sophisticated when pulled off. The trick is finding just the right shade: experiment around and if all fails, set off with a scarf in a flattering colour. Not everyone can wear beiges near the face, but nude shoes are amazing leg lengtheners.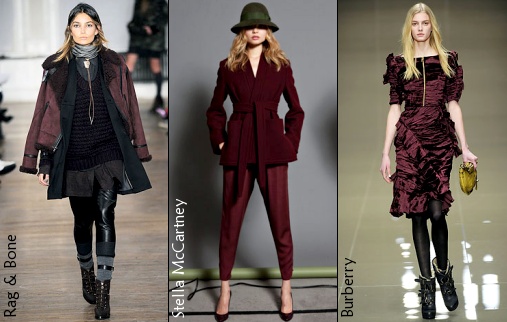 Burgundy:
as long as you keep it subdued, this wine colours are extremely versatile. I especially love them on winter accessories. Like aubergine, this colour also adds instant sophistication to anything you wear.
Whatever rocks your wardrobe:
people whose wardrobe is made up of a capsule palette of colours can use a bold colour as their neutral.
Pink
or red could be your neutral if it happens to go with everything you own.
As I was writing this I wondered what made black the most preferable of all these neutrals. And then it struck me: there are many grays, browns and navies, but only one black. Right ? Well, not exactly. If you look closely, a lot of "black" clothes are not really pitch black but faded to deep shades of grey or brown. Mismatched blacks can look dowdy, while mismatched grey look interesting.
Remember to try on different intensities of these colours, as well as the warmer and cooler versions to see what works for you.
Tell me, do you have a favourite neutral ? Mine would be gray and navy, and of course white in the summer. I have tons of white stuff, inspired mainly by atmospheric shots of little white dresses in cafes under the Mediterranean sky. Of course, I rarely wear them, since I don´t have the warm skies or the time to sit in cafes.