If models have badly fitted bras, why should we expect any better from the rest of us ? Where else do women learn from how a bra is supposed to fit ? Don´t most of us see the fashion industry as the experts in these kinds of matters ?
Lingerie models are the ones that are supposed to show us how it´s done. Do they ?
Click images for large size
Victoria´s Secret: band is clearly riding up, cups are clearly too small (breast tissue on it´s way to becoming armpit rolls). I bet the band doesn´t lie flat it the front (the band is way to loose).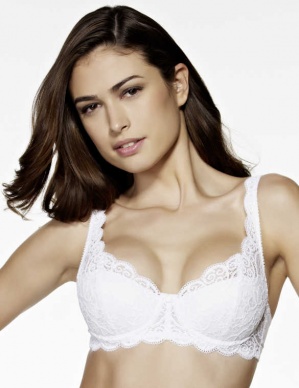 Triumph. Ouch. That looks painful ! Once again, the cup is way too small.
La Senza. You can see that the front of the bra doesn´t lie flat and hangs down... The band should support the breasts, but here it´s just hanging there....
These are just a few examples out of the thousands of photos out there. I can´t look at a lot of lingerie catalogues without cringing.
All this despite the fact that the models are carefully posed and everything is tucked in, and of course any remaining problems are photoshopped away...
And another thing the media tells you is that only special and expensive bras can be comfortable, never the pretty ones. And if you have big boobs, you need a bra that looks like this:
What´s missing in the photo is the thick straps that are supposed to bear the weight of... (COmplete BS, it´s the band that´s supposed to support, not the straps !)
Doesn´t it remind you of this :
On the flip side, there are some bra manufacturers that have perfectly fitted models and a big range of sizes, and very big cups in gorgeous colours. Like Panache.
Do you think that the media often presents a distorted image of how a bra should fit ? Do you feel that people use lingerie models as a guide to how a bra should fit ? Did you ever feel there is anything wrong with your breasts because they didn´t look like Adriana Lima´s big rack stuffed into small cups ?