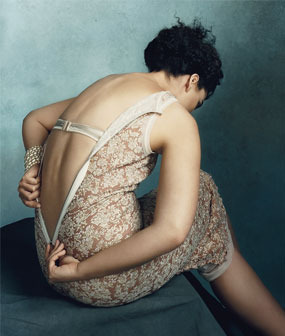 I explained here why the bra calculator fails at the end of the size table and how to find out what size you should be wearing. Please please read that post first ! Often women who calculate their size as a 50 band end up being comfortable in a 42 or 44. That said, for those that need 46+ bands and cups like C and lower, here is what I found:
While researching for stores that carry such sizes, I was really disappointed. Bravissimo has no big bands.
Figleaves
offers B cups in band sizes up to 50. But already at 46 the choices are very small. There are almost no pretty soft underwired bras. Almost all of the bras are "comfort models" which seems to be a codeword for highly elastic, unsupportive, and ugly things. Such bras are too unstructured to give support or a good shape. There are also some prosthesis and maternity bras. The same was repeated in almost every bra store.
However, not all hope is lost. I found that plus-size clothing stores often carried bras in sizes like 44B and 50B:
Woman Within
surprised me with some non-beige and non-"comfort" bras in the size of 50B. The bras are also inexpensive, ranging from $20 to $50. Look promising !
Herroom
actually had some prettier bras, like
this one
, in 48B. In bigger bands the choice is almost non-existent.
SimplyBe
(UK) Has just a few, but surprisingly pretty (and underwired ! and inexpensive) bras in 50B.
Evans
(UK) Again, finally some pretty bras in 50B ! Starting at £14.00 !
Valont
produces bras up to band 48, with cups as low as B. They even make some colourful underwired models. Their homepage looks like a 13-year-old made it, so may I suggest Yahoo Shopping or Google Shopping ?
Dessus-xxl
is a German retailer with quite a big choice
Barenecessities
theoretically bands up to 56, with A cups. However only below band 50 there are actually several bras to choose from, and that too mostly in B cups rather than A. Barenecessities tends to have simple bras in basic colours, if you are looking for something glamorous you are in the wrong place. Still, in spite of all the lacks, kudos to Barenecessities for at least acknowledging that sizes like 56A exist.
LaurenSilva
Acknowledge the existence of up to 56AA. In sizes like 48B you get a choice that´s not too shabby. The bras appear to be cheaper as compared to other sites.
Biggerbras
has band 56 in B, and Band 50 in A. I was not exactly blown away by the choices they offered.
JCPenny
has a couple of bras with band sizes up to 50, available in cups as small as B.
Ewa Michalak
has a good range of sizes, and will custom-make your size if you need it. The bras are high quality and inexpensive (from 17€). I wrote about that brand
here
.
Lane Bryant
Doesn´t do really big band with A & B cups, but if you are looking for C cups in bands up to 46, you will find several cute, fun bras.
Leading Lady
Band size up to 50, cups start at A. The model selection is not overwhelming, but the bras are non-expensive and non-ugly.
What you can do:
Let your voice be heard. Write to companies and stores, telling them you´d like a bigger choice in your size. Tell them what you´d like (colour, basics, underwires, lace, whatever). If a brand makes a bra you covet in, say, 44B and not 46B, suggest to them they expand their size range to fit you. Remember, there are real people in those companies, and a number of such mails will make them take notice.
Photo via
plus-size-tall