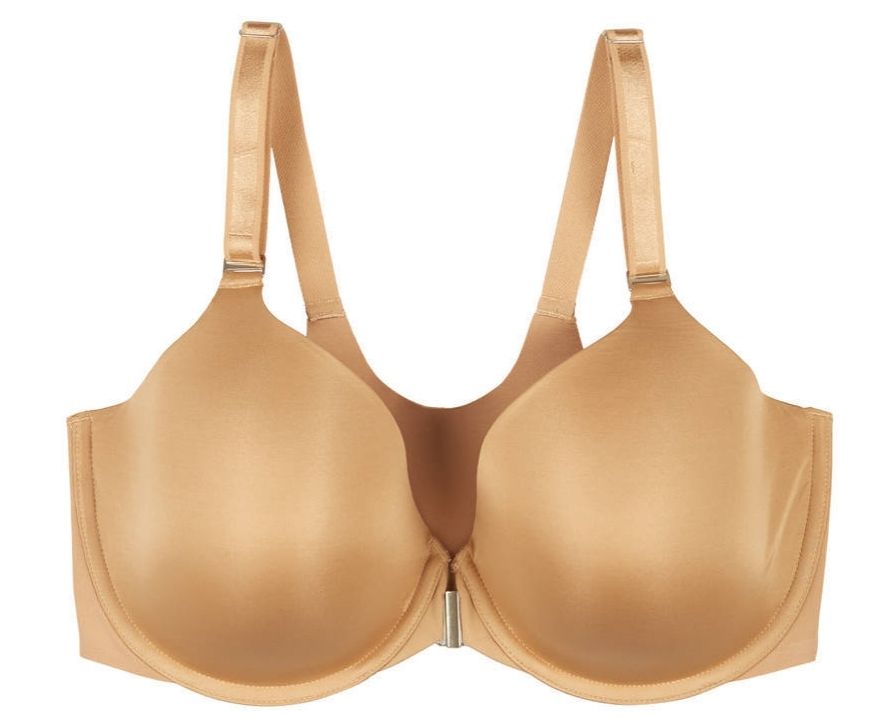 Montelle Pure Plus Smooth Front Closure Bra, 30-40, D-G
One reader sent me the following question:
"Why do bras do up at the back? Why can't they do up in front, with a lace up at the back so that we can tighten up when we need it. Or maybe the lacing on the side vents. Front clasps would be so much more comfortable and maybe sexy?:)"
From what I've heard there are plenty of people who would like to see bras that close at the front, especially women who don't have the full range of movement in their shoulders and arms, as well as anyone who has to spend a lot of time lying down in bed due to medical reasons.
The reason closures are usually in the front is because it's simpler to sew. There isn't enough space in the front for a 3x3 hook closure; so most bras that close in the front have just a simple hook and eye, and the whole construction looks rather unstable and incapable of supporting bigger breast sizes. Also, such closures completely lack any kind of way to make the band tighter, and this really decreases the life-span of a bra.
While the simple hook closure fits between the breast of women who have wide-spaced breasts, it feels uncomfortable for women with closely-spaced breasts. Sternums are often sensitive especially if there is not much padding in the area, and many women would not find a closure there uncomfortable.
That said, front closures have one more advantages apart from ease of use --- they can bring the breasts closer together and give amazing cleavage. Plus, the backs are very smooth and pretty. Another things that pops to my mind is that front-closures would suprise most guys, who would desperately go
"how on earth does this open, where is the closure, help!"
A couple of brands that do wired front-closure bras are Wacoal, Eva Bien, Montelle, La Perla, Spanx, Calvin Klein, however these brands usually don't offer the full range of sizes. I was pretty excited when I realised that Parfait Affinitas carries the Nicole bra in the Racerback Contour style which has a front-closure, but it comes in a very small range of sizes.
I'm guessing there isn't much
voiced
demand for front-closure bras. So if you think that you (or a female relative) might be really happy with a pretty, supportive bra with a front-closure, why don't you try writing in to your favourite bra brand? There are lingerie brands out there that have taken the suggestions of customers and bloggers to heart. Here is
a list of bra brands that listen
.
And a last note: you don't have to close back-closure on the back; you can put on your bra back-to-front, close the hooks and then turn it cup-to-front. Yes, I realise that this is still too much gymnastics for someone with, say, elbow issues, but it's still slightly easier.
What's your opinion on front-closure bras? Do you have any brands and styles to recommend?