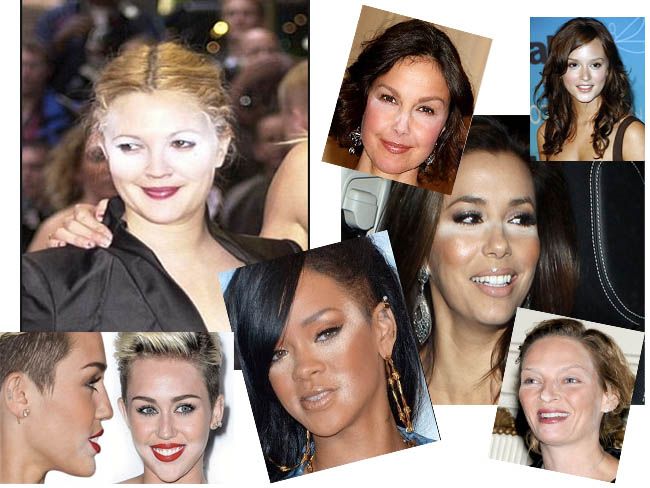 What happened in these photos? The makeup artist didn't suddenly go blind and "used too much makeup" as the tabloids put it. It's just that they didn't use flashback-proof makeup.
There are certain ingredients in makeup that reflect the light very strongly. This effect is not visible in daylight but is really visible under flash photography.
If you will be in a situation where you will be photographed with flash, you must be sure that you are using photo-friendly makeup. You need to pay attention to your
foundation, concealer, illuminating / brightening cosmetics, and all finishing powders
.
How to make sure that your makeup won't cause flashback?
The best way to find how your makeup will behave under flash is to
test-photograph it.
You can apply a strip on your arm in a store and photograph it in a dark place with flash. If the product looks
white
, it causes flashback. Before a photo shoot, dry doing the makeup and take a few photos with flash -- you might be surprised how different everything looks.
Just because a product has
"HD" or "studio"
written on it, it doesn't mean it won't cause flashback (as Wayne Goss demonstrates in his video).
Mineral foundation
usually causes flashback, however
pure silk powders / bamboo powders
which are free from titanium oxide or zinc oxide are safe to use.
BB creams
contain SPF and often cause flashback.
In Goss' video above he mentions that using a loose pigmented powder on top of your foundation can apparently minimise flashback, so can bronzer.
There are certain ingredients that you need to avoid if you want to buy flashback-proof foundation or powder:
Ingredients that cause flashback:
* Titanium Dioxide (CI77891) and Zinc Oxide (77947)
Makeup that has SPF usually has a lot of titanium or zinc oxide, and will cause flashback. You also need to avoid cream or moisturiser with SPF.
* Silica
Silica can look awesome in photos is really finely ground and used sparingly, it gives a tiny amount of flashback that makes you look glow-y. A good products is the Makeup For Ever HD Setting Powder which looks amazing in photos in tiny doses. The cheaper ELF product is ground much more coarsely, and is easy to overdo.
* Silver Mica
Usually causes a lot of flashback, so it's best to avoid
* Glitter and shimmer
Glitter and sparkle can look very different under strong light. I'd suggest limiting it to the cheeks and eyes. Products with multicolour glitter particles usually photograph better than when the particles have only one colour.
A couple of flashback-safe products:
Make Up For Ever HD Foundations
NARS foundations
MAC studio foundations
Duo Mat Powder Foundation,
Revlon Colorstay Whipped Creme Makeup, and Revlon HD
Photoready, MAC Full Coverage Foundation,
Studio Fix Fluid and Face n Body,
Maybelline Dream Liquid Airbrush Finish and Dream Smooth Mousse Foundation,
Rimmel Lasting Finish 25 Hour Foundation
Rimmel Stay Matte powder in transluscent
and Estee Lauder Invisible Fluid Makeup.
Any foundation by a theatrical brand: Kryolan, Graftobian, Ben Nye, Cinema Secrets
Beni Durrer (store in Berlin)
If you are doing an indoor photo shoot, you need to ask before
what kind of lighting the photographer will be using
. The diffused light from many lamps doesn't cause flashback, but if the photographer plans to rely heavily on flash than you might want to be careful with your choice of makeup.
The up-side to the flashback gaffes of the stars is that you get to see where exactly they apply their highlighting products. I broke this down according to each celeb's face shape
in this post
.
Have you ever had issues with flashback? If you know of any flashback-proof products, then let me know in the comments.