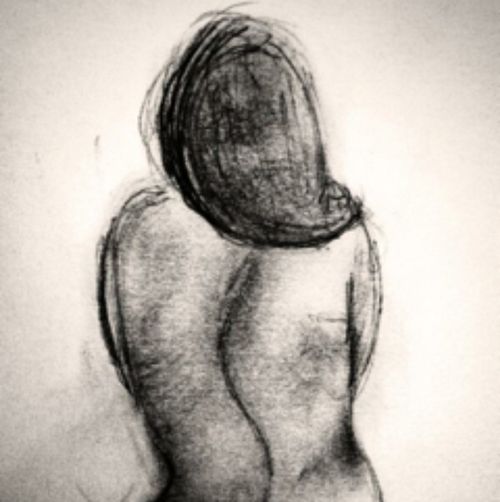 Scoliosis and other issues with spine curvature can make bra fitting quite tricky. Here are some tips and solutions from lovely reader Lianda from the US (San Diego) who sent in this question:
"I am having a terrible problem. I am the most a size B, probably closer to a size A. My band size from the loose measurement is 45" including my breasts. Under my breasts is 40".
But I also have scoliosis and have to wear a bra that has racer back or I'm constantly pulling my straps up. AND to make matters worse, any large banded bra has cups that are too wide apart for the front of my body. So if I even used silicon pads, the cups would practically be partially under my arms! And the wires go up so high on my chest that they cut into my armpits even at a size 40!
In clothes, or in sports bras an XXL will create this problem- it fits around my back but the cups are too wide apart. I wear size XXL.
This is one of the biggest problems in my life- I know that sounds crazy! But a lot of the time I go without a bra- and then look totally unbalanced because of my big belly! I probably SHOULD wear a bra with padding, or get pads to put into the bra to give me a more balanced look. Despite my weight, I'm very physically active (play tennis, yoga) and need to feel comfortable.
I have a feeling I'm going to need a custom made bra."
Hello Lianda
That doesn't sound crazy at all, a badly fitting bra can be really distracting, almost as bad as a shoe that pinches!
Cups that are too wide apart are a common problem in bigger sizes. Many brands still use the
scale-to-size method when making bras with cups in different sizes. This totally doesn't work
, bras with bigger cups have to be constructed from scratch. I have written a bit more about this problem
here
, and mentioned some brands that make bigger cups that actually fit real women.
You have a 5 inch difference between your underbust and your bust measurement, which would put you in to a 40DD cup (each inch is a cup size). Of course these sizes are just starting points so feel free to try slightly bigger and smaller cup sizes too.
If the band size 40 is too tight because of the scoliosis, try a bigger band size but the same cup size. When you go up a band size, you must go down a cup size because cup size is relative to band size.
Fitting yourself for a bra can be a bit tricky with scoliosis, but once you nail it it's really really worth it!
Bra recommendations:
My first recommendation for anyone with scoliosis would be
Braologie bras
. The
wide band with 4-hook closure
is comfortable and stays put. The broad back distributes the band pressure over a bigger area and supports your back. And you also get a band extender, so you can try out different band sizes and see what feels best. Be sure to
mention your scoliosis
when you order.
For sports I personally love the
Panache Sport
which has a clip to make the straps racer-back.
I'd also recommend bras from Ewa Michalak. Their bands tend to be slightly snugger though, so you might want to size up. They make really well-constructed bras in bigger cup sizes. A couple of their models like the
Onyx
come with different types of straps.
The Ewa Michalak Onyx has removable inserts -- you didn't mention
asymmetry
but I'm just throwing it out there, because I read that it can be an issue with scoliosis. You can put both asymmetry pads into one of the cups. Th pads go inside discreet little pockets.
If you will be trying on bras in local stores, make sure to check out long-line bras.
Bra hacks for scoliosis:
As wearing criss-cross straps is much more comfortable for those with scoliosis,
buy racer-back clips
which can turn any bra into a racer-back. Also, some bras also come with completely
detachable straps, you can unhook them and then cross them at the back
.
In case of asymmetry, always
fit your bra to the bigger boob, and tighten the straps slightly on the smaller side.
For stronger asymmetry, I hear that women have had great results with
mastectomy bra swim forms
.
If an otherwise well-fitting bra rubs a bit, try
attaching moleskin to the problem area
on the bra. You can buy it in most places where foot-care stuff is sold.
Finally, I wanted to say that scoliosis is usually not so obvious to other people, nobody notices the disbalance in your posture as much as you do. So rock on! And keep us updated about your bra search, there are a lot of women out there who have similar fitting issues and would love to know what worked for you and what didn't.



If any of you lovely readers have scoliosis, what would be your advice for Lianda? There is really very little info about it on the internet! Also, does anyone from the thereabouts from San Diego know if there are any good bra stores nearby?



PS if you have unusual fitting issues that have not been addressed on this blog yet, feel free to shoot me an email. Please provide as much detailed and organized information as possible, including correct measurements and country.
Photo credit:
ScoliosisGirl